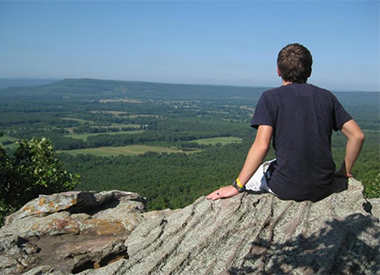 Adapted from The Alpha Course by Nicky Gumbel
"Because God has made us for Himself, our hearts are restless until they rest in Him."
― Augustine of Hippo
Many people go through life thinking, when I can buy this, or achieve that, or find true love, then I will be truly happy.  Sadly many will reach the end of their lives deeply disappointed and regretful of how they lived their life.  Jim Carrey an American movie star once said, "I think everybody should get rich and famous and do everything they ever dreamed of so they can see that it's not the answer."
The truth is that there is a desire deep within the human heart which yearns for something more than what this world can offer.  Blaise Pascal a 14th century French philosopher wrote, "There is a God shaped vacuum in the heart of every man which cannot be filled by any created thing, but only by God, the Creator, made known through Jesus."
Other things in life, even good things, like family or relationships can only satisfy us to a certain  level.  No matter how much food, drink, cars, friends, vacations, nice clothes and relationships we try to stuff into the God shaped hole inside of us, it still aches.
Jesus Christ addressed this when He said, "I am the Bread of Life, he who comes to me will never go hungry."  (John 6:35)  Jesus wasn't talking about satisfying our physical hunger; He was saying I am the One Person who can satisfy the deep hunger that is within every human heart.
One area that He can satisfy is the desire we have for meaning and purpose in life.  Have you had questions such as, "Why am I here on this earth?"  "What is life about?"  "Who am I?"  "What is my purpose?"  At times we push these questions to the back of our mind, because they are difficult to answer and the busyness of daily life drowns them out.  But what a tragedy to go through all of life and miss the point!  Jesus can answer these questions and reveal the personal destiny and plans that He has had for your life ever since you were in your mother's womb. (Psalm 139:15,16)
Another area He can satisfy is the hunger and need we have for freedom from the things that we do wrong—from guilt and anger and addictions, as well as the consequences of those things and the fears they bring in our lives, even the fear of death.  On the cross Jesus took upon Himself every wrong thing that you and I have ever done, and every wrong that you and I will ever do.  In essence He said, "Because I love you, I don't want you to suffer for those things.  I will take them upon myself and take your guilt and punishment.  I will die in your place."  That is the meaning of the phrase, "Jesus died for your sins".  He died to give us life and rescue us from death, which is the consequence of sin.  He died to set us free from the hurts and pains and fears we have.  He died to help us become the people that deep down inside we really want to be.
Another area He can satisfy is the hunger and need we have for a Father.  Each one of us will have different things come to mind when we hear the word father.  Some of us have had good experiences, some of us have had bad, and some of us may have never known our father.  Regardless if the word father brings pain or joy to you, there is another Father who longs to parent you and love you like no other earthly father ever could.  Knowing Him brings fulfillment and completion to life like nothing else can.
Jesus said, "He who has seen me has seen the Father", (John 14:9) He also said, "I am the way and the truth and the life; no one comes to the Father but through me." (John 14:6)  Jesus is the only Son of His Father, He knows His Papa very well, and He is the One who has made a way for us to know Him as well.
These are just a few of the reasons why Jesus can fill that God shaped vacuum in our hearts; He can satisfy our desire for purpose and meaning in our lives; He can set us free from the things we have done wrong and help us become the people we want to be; and most importantly He is the way to the Father.  A relationship with the Father will change your life forever.  Literally.  Your life will be changed in the present, because knowing God and being in His presence affects us like nothing else can.  Having a relationship with the Father will also change your life in terms of where you will spend eternity.
Beginning a relationship with Him is simply a matter of coming to Him as a child and asking Him to forgive you for your sins and asking Him to come into your heart and be the Lord of your life.  If you do this it is important to keep growing in your relationship with Him.  Just like one bite of bread won't satisfy your hunger, one initial prayer can't fulfill a hungry heart.  There is an important process of growing in your relationship with God called discipleship.
If you would like to begin this new relationship with God, you can pray the following prayer.  It is between you and God.  The most important thing is that it comes from your heart.
Dear Jesus,
I am sorry for the wrong things that I have done, and I ask you to forgive me for my sins.  I turn away from all that is wrong and I come to You.  Thank you for loving me and dying on the cross for me.  I ask you to come into my life right now and save me.  I give You my life and I receive You as my Lord and Savior.  I receive You Holy Spirit as my helper and the One who gives me strength to live every day for You.  Thank You Lord Jesus for saving me.  Thank You Father for adopting me.
If you prayed this prayer from your heart, you are now a very different person than before you prayed.  Something took place inside of you which Jesus refers to as being "born again".  You are literally a different type of being and have a new nature.  Also, in some ways you are like a baby.  You need help growing up in your faith. It is very important that you connect with others and find a Bible believing church where you can continue to grow and get to know Him and find out more about the wonderful plans He has for your life.  Reading the Bible and praying will also help you grow.  A good place to start is the book of John in the New Testament.
If you didn't pray this prayer, but would like to pursue knowing God, we encourage you to simply ask Him to reveal Himself to you.  Tell Him you want to know Him, talk to Him.  He is there and He is listening.  When you are interested in knowing someone, reading a book they wrote is a good place to start as well.  Read the Bible, especially the historical accounts of God coming to earth in the form of Jesus Christ.  You will find these in the books of Matthew, Mark, Luke and John, the first four books of the New Testament.  Another option is The Alpha Course, which is a widely available course that  helps people explore more about the Christian faith.  Visit alpha.org to find out more.