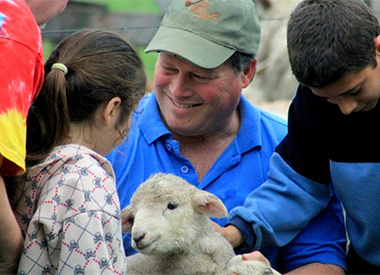 During this journey of writing and publishing Mario's Golden Locket, we have had the opportunity to share the story with many children as well as adults.  Surprisingly, we have noticed that it seems to have more impact on adults than it does on children.  Most likely because as adults, we have passed through a multitude of experiences similar to Mario's and have felt the consequences of believing the lie and forgetting the words of the King. The story is all too familiar!
Scripture teaches us that our hearts are like tablets that can be written upon by God and by us.  When speaking of the New Covenant, God tells His people that He will write His law on their hearts.  In Corinthians, Paul tells the readers that they are "an epistle of Christ, – written not with ink, but by the Spirit of the living God, not on tablets of stone but on tablets of flesh, that is, of the heart."   We are admonished in Proverbs to write truth and kindness on the tablets of our hearts.  Thus, both God and we have the privilege of writing upon our hearts.  (See verses and references below.)
The Bible doesn't specifically teach that others can write upon our hearts.  However, Proverbs 12:18 says, "The words of the reckless pierce like swords, but the tongue of the wise brings healing."  That verse succinctly describes something we have probably all experienced; the painful piercing of reckless words.  Fortunately, most of us have also been the recipients of restorative words.
The most powerful of all restorative words are the words of Christ, spoken to us through His Word and by His Spirit.  His words combat the graffiti lies that have been written on our hearts and make them null and void in an instant if we'll believe them.  We have experienced tastes of this in our own lives as we have allowed the Holy Spirit to reveal and heal.  Uncovering the lies and exposing them to the power of Christ's living words has brought us joy, peace, and a greater freedom to be who He has called us to be and do what He has called us to do.
Although they are incomplete and evolving, the following writings are our attempt to share what has been helping us.  We pray that you will be blessed as you seek the King, allowing Him to erase the lies in your heart and to tenderly rewrite His unchangeable truths.  May you also learn that as the guardian of your heart, you can choose what gets written and whose words you choose to embrace. His are the only ones that really matter.
---
Here are the verses and their references: "This is the covenant I will make with the house of Israel after that time," declares the Lord. I will put my law in their minds and write it on their hearts. I will be their God, and they will be my people. Jeremiah 31:33 and Hebrews 8:10
"You yourselves are our letter, written on our hearts, known and read by everybody. You show that you are a letter from Christ, the result of our ministry, written not with ink but with the Spirit of the living God, not on tablets of stone, but on tablets of human hearts." 2 Corinthians 3:2,3
"Do not let kindness and truth leave you;
Bind them around your neck,
Write them on the tablet of your heart." Proverbs 3:3